We invite you happily

ASHTANGA YOGA RETREAT,     3. - 9. JUNE 2019
with MARIELA CRUZ, authorized level 2, KPJAYI

in CAJIZ (Velez-Malaga) mysoreshala@costa del sol
Welcome to our 6 days ASHTANGA YOGA RETREAT with MARIELA CRUZ!
This Mysore Retreat follows the  workshops in Malaga City, 23. -26. May
We are delighted to invite you to an exceptional Ashtanga Yoga Retreat with Mariela Cruz – near Velez-Malaga, Cajiz.
Mariela is starting her European tour of the project Ashtangini in Malaga and continues teaching at our new mysoreshala@costadelsol!
A week of intense Ashtangayoga, guided by Marielas attentive and motivating presence, will bring your practice on a deeper level, and opens your heart for "The dance of Vinyasa".
Talks and Satsangs on yoga-philosophy will shed light on how this knowledge may help us to transform our lifes to more awareness and peace within.

Experience the joy and depth of a dedicated Yoga practice, and be inspired of an Ashtangini who loves and lives the yogaway.

Porfavor clic aquí para toda la información en españolPlease klick on the flyer below, to open all infos in english!
* about  the Ashtanga Morning Mysore Practice  over the 6 days, which is open  for all levels!

* the 2 practice-workshops and the 4 workshops with Mariela in yoga-philosophy
* the Brunch after practice and gatherings
* the indian classical music by GOVINDA, which you may enjoy
* the non-residential Retreat Venue, with swimming-pool and chillout area
* how to register

Please klick on the flyer

EASTER ASHTANGA YOGA RETREAT
18. - 22. 4. 2019
with
INDIAN MUSIC, CONCERT & KIRTAN
LA BARROSA BEACH  - NOVO SANCTI PEDRI - CADIZ
Workshop speech is in english with spanish translation!
El discurso del taller es en inglés con traducción al español!
We invite you happily to our 5 days ASHTANGA YOGA RETREAT with RETIROS DEL ALMA!
*about  the Ashtanga Yoga Practice  over the 5 days,which is open and indepth for all levels

* the indian classical, meditativ music by GOVINDA, which you may enjoy and the Kirtan
* the Retreat Venue, which offers accomodation and exclusive vegetarian meals &
* all about the activities which you may join around the Retreat!

WELCOME to an intense and enjoyable
Ashtanga Yoga Practice in a wonderful place & setting!


For all infos and registration please get in touch with retirosdelalma.com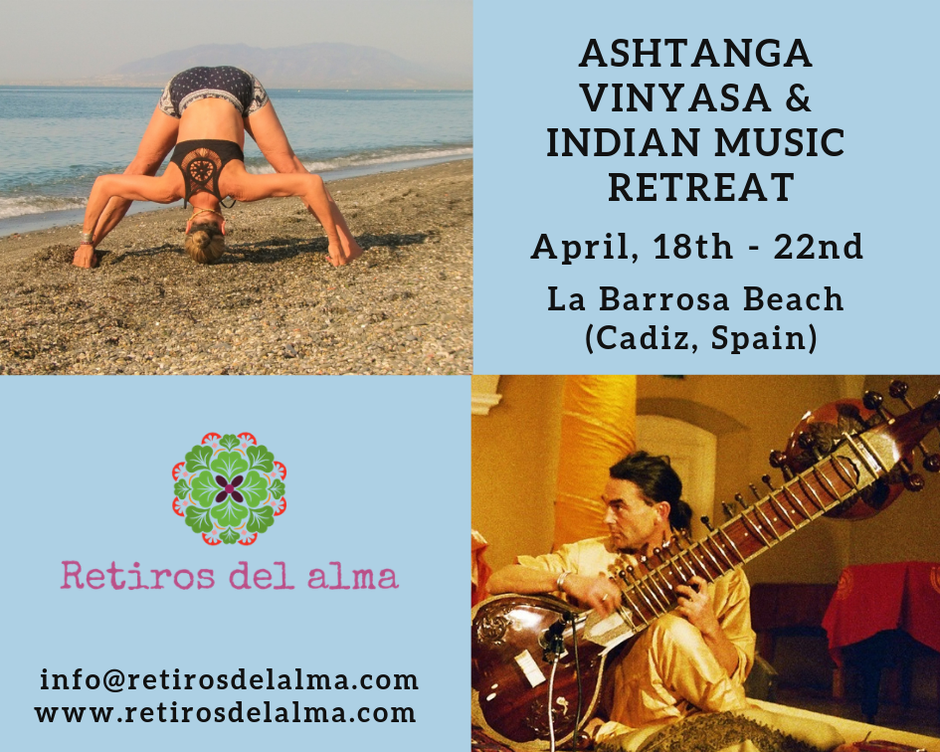 ASHTANGA YOGA SYLVESTER RETREAT in ALMAYATE (Malaga)
with ANDREA & GOVINDA
29. Dec. 2018 - 5. Jan. 2019

!Celebrate the Sylvester / New Years Eve in the lightful Andalucia!
Daily Ashtanga Yoga Morning-Practice, LED and MYSORE CLASSES with Live-Music by GOVINDA. 2-3 Asana & Pranayama Sessions following the teachings of Sri Sribhashyam, the youngest sun of T. Krishnamacharya.

...including "BAÑO DE GONGs, MUSICA INDICA mit GOVINDA, VISIONBREATH & beachwalks...
Please contact yogaandrea@web.de or govinda1008@googlemail.com
for details and registration.
ASHTANGA & YOGA RETREAT-DAYs at COSTA DEL SOL / ANDALUCIA

 
From NOVEMBER 2018 to the end of MARCH 2019 we will be staying in La Herradura, 70 km east of  Malaga. In this time we welcome you for a individual stay and Yoga-Programm or regular open Mysore Morning Practice. 
We will organize a nice stay for you in the surrounded area of the beautiful Marina del Este!

(Minimum stay in an appartment usuaally is 3 days/nights)
Choose your dates and length of stay individually!
More info coming soon / Mehr Info in Bälde!
Buche YOGA & ASHTANGA YOGA FERIEN an der Costa del SOL mit ANDREA & GOVINDA
Mögliche Termine zwischen November 2018 & März 2019

Der Zeitraum und das Yoga-Programm ist  individuell & flexibel buchbar!
More info & pics of the area acoming soon / Mehr Info in Bälde!
see here our previous Retreat Locations....
- see here the beautiful paradise where you could stay!

ASHTANGA-YOGA-RETREAT / 22. - 29. JULI 2018

im wundervollen CENTRO SANTILLAN an der COSTA DEL SOL in ANDALUSIEN / NÄHE MALAGA

ANDREA  PANZER - authorized level II by Sharath Jois &
GOVINDA SCHLEGEL - meditative live-music

Vertiefe Dein Yoga oder beginnne jetzt - entspanne unter Palmen an
einem paradisischen Ort in Andalusien nur 6 km vom Meer!


All levels are warmly welcome!
Find here more detailled infos and the registration form in english and german:
Finde hier detaillierte Infos und das Anmeldeformular.

ANMELDUNG 2018
INFOS & REGISTRATIONFORM 2018
Für all Deine weiteren Fragen, Hilfe für die Flugbuchung etc. helfen wir Dir gerne!
Workshop-speech is german and englisch, depending on the participants.