EASTER ASHTANGA YOGA RETREAT
18. - 22. 4. 2019
with
INDIAN MUSIC, CONCERT & KIRTAN
LA BARROSA BEACH  - NOVO SANCTI PEDRI - CADIZ
Workshop speech is in english with spanish translation!
El discurso del taller es en inglés con traducción al español!
We invite you happily to our 5 days ASHTANGA YOGA RETREAT with RETIROS DEL ALMA!
*about  the Ashtanga Yoga Practice  over the 5 days,which is open and indepth for all levels

* the indian classical, meditativ music by GOVINDA, which you may enjoy and the Kirtan
* the Retreat Venue, which offers accomodation and exclusive vegetarian meals &
* all about the activities which you may join around the Retreat!

WELCOME to an intense and enjoyable
Ashtanga Yoga Practice in a wonderful place & setting!


Please click on the pic below to see all infos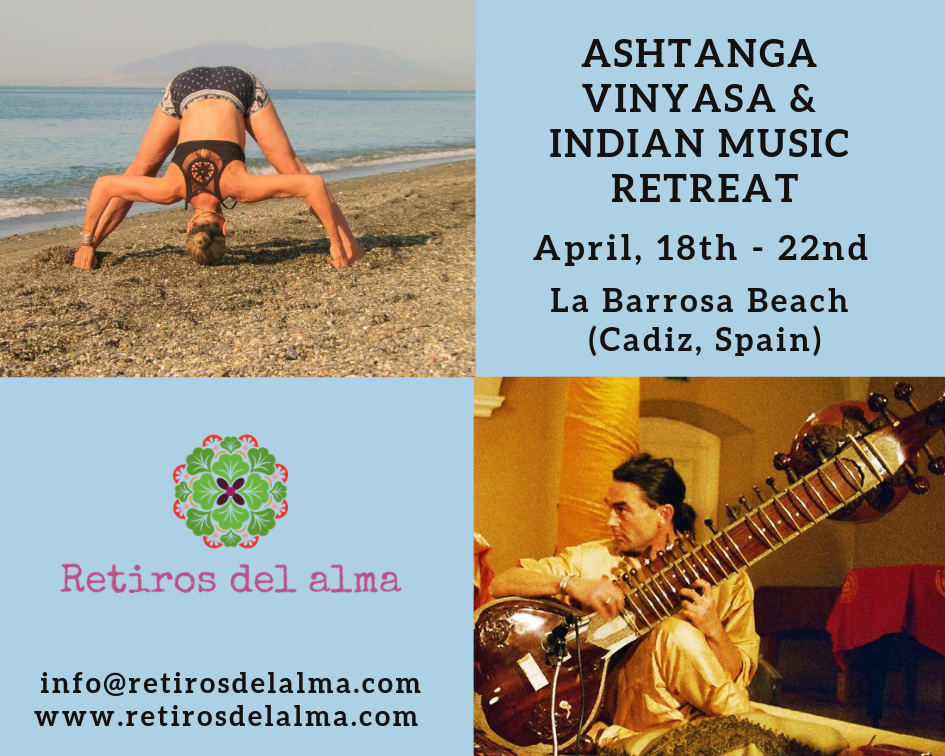 ASHTANGA YOGA SYLVESTER RETREAT in ALMAYATE (Malaga)
with ANDREA & GOVINDA
29. Dec. 2018 - 5. Jan. 2019

!Celebrate the Sylvester / New Years Eve in the lightful Andalucia!
Daily Ashtanga Yoga Morning-Practice, LED and MYSORE CLASSES with Live-Music by GOVINDA. 2-3 Asana & Pranayama Sessions following the teachings of Sri Sribhashyam, the youngest sun of T. Krishnamacharya.

...including "BAÑO DE GONGs, MUSICA INDICA mit GOVINDA, VISIONBREATH & beachwalks...
Please contact yogaandrea@web.de or govinda1008@googlemail.com
for details and registration.
ASHTANGA & YOGA RETREAT-DAYs at COSTA DEL SOL / ANDALUCIA

 
From NOVEMBER 2018 to the end of MARCH 2019 we will be staying in La Herradura, 70 km east of  Malaga. In this time we welcome you for a individual stay and Yoga-Programm or regular open Mysore Morning Practice. 
We will organize a nice stay for you in the surrounded area of the beautiful Marina del Este!

(Minimum stay in an appartment usuaally is 3 days/nights)
Choose your dates and length of stay individually!
More info coming soon / Mehr Info in Bälde!
Buche YOGA & ASHTANGA YOGA FERIEN an der Costa del SOL mit ANDREA & GOVINDA
Mögliche Termine zwischen November 2018 & März 2019

Der Zeitraum und das Yoga-Programm ist  individuell & flexibel buchbar!
More info & pics of the area acoming soon / Mehr Info in Bälde!
see here our previous Retreat Locations....
- see here the beautiful paradise where you could stay!

ASHTANGA-YOGA-RETREAT / 22. - 29. JULI 2018

im wundervollen CENTRO SANTILLAN an der COSTA DEL SOL in ANDALUSIEN / NÄHE MALAGA

ANDREA  PANZER - authorized level II by Sharath Jois &
GOVINDA SCHLEGEL - meditative live-music

Vertiefe Dein Yoga oder beginnne jetzt - entspanne unter Palmen an
einem paradisischen Ort in Andalusien nur 6 km vom Meer!


All levels are warmly welcome!
Find here more detailled infos and the registration form in english and german:
Finde hier detaillierte Infos und das Anmeldeformular.

ANMELDUNG 2018
INFOS & REGISTRATIONFORM 2018
Für all Deine weiteren Fragen, Hilfe für die Flugbuchung etc. helfen wir Dir gerne!
Workshop-speech is german and englisch, depending on the participants.