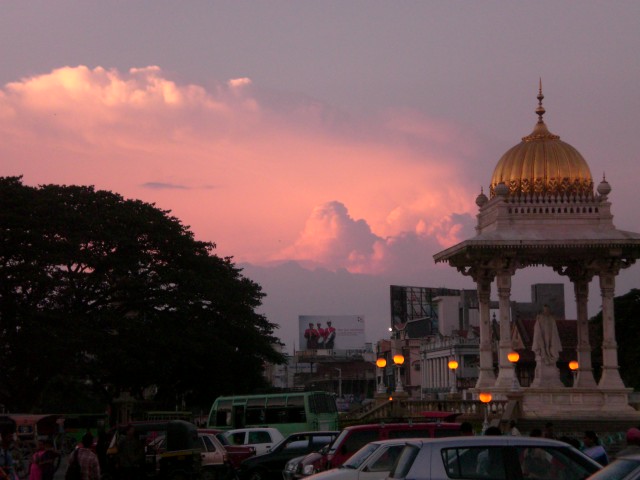 10.01.2007 – GOKULAM, MYSORE

Its my first time in Mysore! ... and I have been here for 3 days now.
Writing from the Ganeshs  Internet Cafe - also my first visit to Ganesh.
You feel right at home, order a Banana-Lassi and start your online-works after having a Ginger Special on the roof ...in the company of other yogis, who have brought their laptops and enjoy a (still seldom) wireless connection here. Others are eating, reading, resting. We chat about the latest blog, recommanded is the blog of Alex.


Gokulam is the residential area of Mysore, typically Indian, but somehow fantastically relaxed. An enclave has been created in this district of Mysore, where you can get everything - what your western heart desires.
About 200 meters from the Mainshala - six westerners are hacking loudely in the evening twilight. Only three days here - I am already infected by the atmosphere. Everything is new, exciting, intense. At the moment, about 300 "yogis" from all over the world, are here to gain a breath of the origin of Ashtanga. I flew from Trivandrum to Bangalore on a budget airline and then took a taxi,  four hours to Mysore. The fever and nausea that plagued me the day before, vanished. I had to cancel my last practice with Lino Miele in Kovalam, and packed my things at a snail's pace, fortunately subsided. Dressed up to the eyes and the scarf tied to a thick mouthguard, the scenery of the famous computer metropolis passed by.
We continued through banana and sugar cane plantations, silk plantations and rice fields until we reached Mysore after a four hours drive. I called Heike, who recommended the room to me, as I found it quite loud and dark, but she told me to keep it, it was all tight in Gokulam. Ok, so I kept it and was happy that she wanted to pick me up, right away with the scooter to take me to the shala, where I wanted to register the same day. And now - KISMET! Just from the day I arrived, the mainshala was closed for further registrations! I had asked myself over and over again, if I would rather practice with Sharath. But for various reasons I had decided to practice the first month with Sri Phatthabi Jois in the main hall. Especially to record the much talked about mysterious athmo!
There would be so much to tell about all the information that is floating around! However, fate has decided that I will practice with Sharath and I am happy about it. I like Sharath, whom Alex calls the "little prince" in his blog about Mysore. It is worth reading his blog. He has been back since the beginning of January and is back 9 months every year. A real insider.
There you can read about, how it is going on here, when 300 yogis devotionally look for a place for their practice. Only since 2 days, there is a map in the main hall, when exactly you are assigned to the practice, because the people were probably already queuing from 4 am onwards to practise! The practice with Sharath is pleasant. It is a smaller Shala, for about 25 people, who practice from 8 am onwards, when Sharath has finished teaching in the main hall. I practise at 9.15, waited until a place for the mat is free, and look forward to easy practice -  going through the Primary, the first series. The first four weeks you will always practice the Primary, no matter how far you are otherwise. Ok, thats fine, I improve my bhandas, jumps become slower, transitions more refined, just like you see with others that it obviously works - you can increase the practice without end. Maybe it will get boring, but it's great to practice the first series without any stress. Sharat only comes for the backbendings, otherwise I don't get any adjustments at the moment. But l enjoy.
l'm fine. The first two nights I hardly slept, but I will surely find a nice place to stay. Now the night comes again, and I fear a little bit the noise of the street. I haven't eaten anything yet either... I hope to sleep for at least a few hours and look forward to the practice and the day tomorrow. CIAO AMICI (in the background italian yogis)...
15.01.2007 – GOKULAM, MYSORE
Hi, it's afternoon and there are some people lining up, who want to check their emails after the great Indian food at Anu's. So I'll just make it short and upload the new pictures from a wonderful trip with Paulo to the Somanathpura Temple, which is located about 32 km east of Mysore and was built around 1200 AD. You can just sit in front of the heavy stones and marvel at the filigree stone work, sculptures so alive and beautiful that you could spend days there looking, touching and maybe even understanding a little bit of the stories of the Bhagavadgita, which are so lovingly carved in stone here. Hundreds of metres of elephants at a trot, hundreds of metres of riders, of Buddhas, of deities. With wonderful patterns and decorations that seem to live. Maybe you can share the breath of our fascination?
Otherwise yesterday – it was the day off and easy going...and I was looking forward to practising again today. I can now understand the Japanese woman who once wrote me, that she didn't get a single correction in the whole first series, but that she was so happy and confident, thanks to Guruji's BIG HUG who helped her with the backbends. Well, that's how I feel even though Sharath whispers - his "very good" after the backbendings. Today he stood there - surprisingly, when I came up from the third bridge. Normally I rest for a while because I get quite dizzy, ok, there was no escape, three times up and down dizziness or not - don't think was the motto, then five times up and down with crossed arms and then crawling  to the heels, carefully, cm by cm. Then the reconciling "very good" - and the "two cm" - shown with his fingers...just so much....really sweet, and no idea why - I had never come that far before. I can still feel my back now - but tomorrow is a new day!