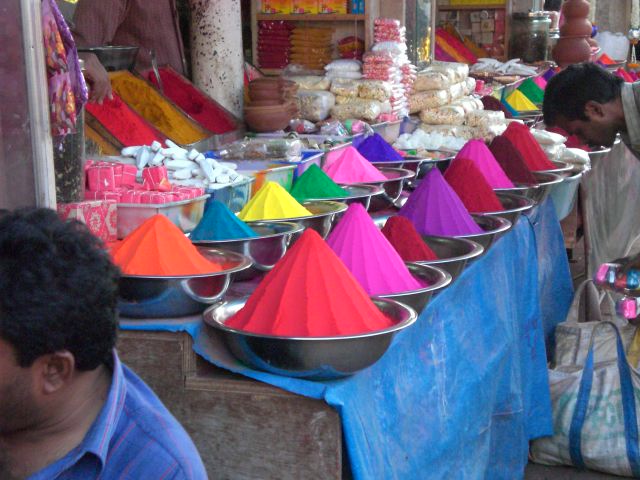 01.02.2007 
---
Hi! It's 9.50 pm and the internet shop is about to close. So I'll upload the pictures tomorrow. I've been ill for a few days, but it's not too bad. What started with diarrhea and fever, the normal "India-cleaning" process, has now developed (also part of the cleaning because of the crazy air pollution) into fever with cold and sore throat and cough - but everything so, that I can still be up and that is something in India, you are quite happy about that. By the way, every second person has it!

Today I finally moved into my room in our flat. For the last 2 weeks I lived in the
living room - without a door, quite open, passage room, because there was a misunderstanding when I moved in. At that time there was only one room available instead of two. And I can tell you, only today I experienced again what it means to close the door behind me, and after 7 weeks! to have a decent room for myself alone.

Now I'm at a point where I know how the next weeks could go on. What courses I'm taking besides yoga (beginners course in chanting Patanjali Sutras, Patanjali Philosophy course, Sitar lessons) and what I'm working on myself (yoga philosophy, website, counting the led class, astrological counselling, there would be a demand for next time, some I'm doing in English for practice, one to one English conversation to improve my English...), as you can see it's a day-filling program. Whereas so many other things already fill the day: Washing clothes, shopping - and that all takes quite a long time here – to find the shops, find what you want, go here and also, to find an adequate Indian outfit, to be properly dressed. The rickshaw rides, through fat exhaust fumes, I a holding the scarf five times folded  in front of my nose...
I have to leave the shop! - I'll tell you more tomorrow,
See you soon, Yours.
28.01.2007
Namaste! It was a lazy Sunday.         
Felt sick last night, feverish a bit, ladies days, all at once. Actually, the fever started the moment I saw the brown broth coming out of the tap after Prija, the owner of the house, started the water tank under the house. As I said, it had probably not been used for 2 years. When I asked her, she said, she had changed the water, but how could she? I guess there are a lot of micro-organisms in there, the colour of the water wouldn't matter. And just the idea of washing the dishes or my face with this water gave me a fever. Ok, so I slept longer today, until 9, took it easy, there's no yoga today anyway and besides I don't exercise for 2 days because of Ladies Days.

I just got the right book, Helge TimmerberAg's "Tigers don't eat yogis", a book that goes around. At least some of the stories are amusing...the title story is one of the best, but also his viagratest is endearingly funny. I laughed a lot, but somehow all the hippie and drug stories are a bit yesterday's news, so I think I'll go back to more serious reading tomorrow, continue reading Bombay Maximum City and also I'm slowly craving philosophy again, so I'm going to start reading the two Osho yoga books where he talks about the Patanjali Sutras.

It's great how much exchange about Ashtanga and yoga in general takes place here. You get insider information that you can't get anywhere else, even if it's just rumours. I just met friends from Zagreb, who I had missed the last few days, they are flying back tonight. And who doesn't want to come back? In the last Mysore class Sharath asked me if it was the second time I was there. I guess that would have meant that I could start the second series...told him that it was the first time but that I would be there for a while. So I am curious how it will go on. The rule is -  that when you are there for the first time, you only do primary -  at least 4 weeks. So let's see how it looks in 2 weeks.

Since Wednesday I have a sitar teacher. I was able to borrow the sitar from him and I have lessons three times a week. I started in Germany years ago, many years ago if I think about it! I can't even begin to count how many years have gone by and how many years my sitar has lain dormant in the corner at home and only now and then do I take it out, clean the dust off it, polish and tune it and play a few bars. I love the instrument, but I don't feel I have time to play it in Germany, or the nearest teacher is in Munich, and I've already tried that, but it's too far for me. So I'm giving myself a chance to get back in here. My enthusiasm goes back to my childhood, my first self-selected LP was one with a few Indians on the front picture, some Indian music that inspired me even then, maybe at the age of 12?
Today after class I went to the Green Leaf, the nicest vegetarian restaurant here, clean and tasty. As (almost) always, my dinner consisted of Rava Idli (2 pieces 18 Rps = about 40 cents, but you can get it for half that price elsewhere, and a yoghurt lassi -18 cents on top. Drinks are usually as expensive as the food, except for chai, which is also about 6-8 Rps. A fresh pure mango or watermelon juice costs about 20 Rps, or a lemonsoda, which is always double the price of breakfast. A nice Tala-Lunch costs about 40 Rps. The most expensive is the riksha there, about just 15 Rps. Sometimes I go on foot because I don't want to pay double-price --30 Rps!

By the way, a room or a small apartment to rent costs nowadays about 4000-5000, which could also be shared, so about 80 EUR. (at that time, as far as I know it was about a salery of a teacher!)
Costly is the rest: Yoga, Propper Indian dress, internet, swimming pool or other extras. Living here is still "cheap" for us westerners.
But as a westerner you need also something extra, to enjoy life, something like a few islands, to overcome, how shall I put it, the dust, the pollution, the noise, the poverty, the strangeness, the instinctive resistance.
Whenever I am in India, I ask myself for at least the first three weeks why I didn't book Mallorca. I am not alone with this feeling of ups and downs, longing, happiness and total resistance, for example when your body can no longer process the impressions, like today. At every corner someone has a fever, diarrhoea or a cough, and you are so happy when you realise that this time it was just a stroke of luck, just a little weakness, a little giving in to the circumstances, just 2 days of fever, in order to go forward with new strength on your unknown path, which not even you yourself can understand.
Why do I, have to be so crazy, to put me here in this crazy India?