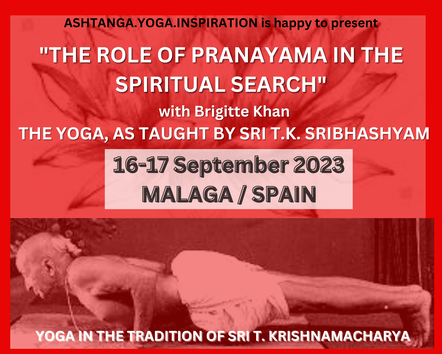 I am happy to continue the workshops in the Sri Sribhashyam way - with Brigitte Khan - here in southern Spain, near Malaga. It is a great gift to learn and work with an experienced teacher and strengthen the journey within. We are so  busy in our daily lifes, that its hard to save time for the spiritual, even when we are seekers on this way.  Yet there is a seeking in everybody, in everysoul to give space to it, and approach the light within.
Pranayama is a very strong tool to calm the mind and connect to our dharma, our life intention. To strengthen and connect to the calmness and consciousness within.  It helps us to sail through our lifes with more balance and clarity.
Everybody who is ready to dive deeper in the seldom taught subtleness of a complete Yoga practice is very welcome! 
The workshop  will be held in english, and provides spanish translation!